What Team de Lancey's Clients Say About Them
Team de Lancey is the best!
Jim and Deb were patient enough with us to give us all the time we needed to find our dream home. They worked day, night and last minute to help us find what we were looking for. Thank you so much Team de Lancey! You ROCK!
Scott and Kinsy A Sparks, NV
"Thank you so much Team de Lancey!
Patience, Availability and Knowledge of their Profession! I am so happy that I made the decision to work with Jim and Deb "Team de Lancey".
Laurie C. Reno, NV
Between planning our wedding, honeymoon, school and our work schedule, needless to say we picked a tricky time to try and buy a house. With the many moving parts that come with buying a home, Jim and Deb did a great job making it a successful experience. They were patient, flexible and willing when it came to making sure we found the best place for us. With a climbing market, we found that timing was very important when it came to scheduling viewings and submitting offers, and we felt like both Jim and Deb were efficient and thorough when it mattered most. Thank you so much for finding us our first home and following as newlyweds. We will definately recommend both our family and closest friends to Team de Lancey when they are in the market to buy or sell. Thanks for everything!
Drew and Alexandra Reno, NV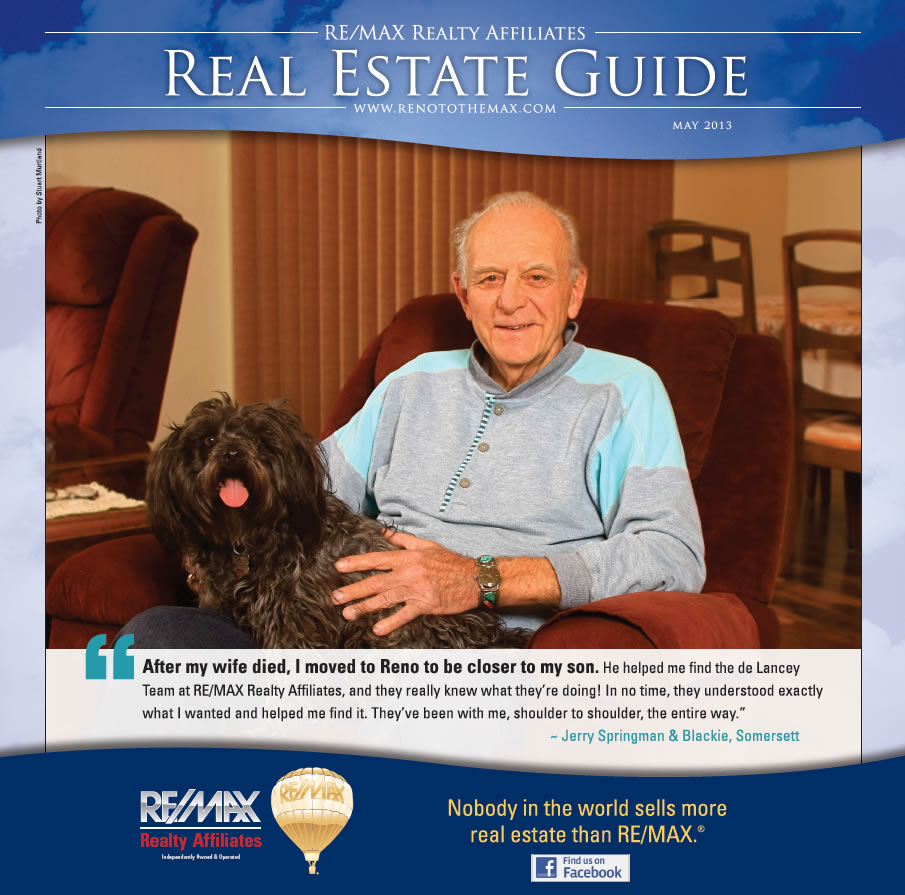 "My husband and I are new residents in both Reno and Nevada. We needed quite a bit of assistance from our realtor throughout the process of buying, financing, and relocation. Deb and Jim de Lancey were there for us through everything. Once we moved in they did not forsake us but made a point of keeping in touch to find out if help was needed. They made the long distance move from Texas to our new home in Nevada much less stressful than it might have been without their assistance. From the beginning to the end of the entire process of finding, buying, and settling into your new home, they will be available to help you too. Thanks Team de Lancey!"

Richard and Carolyn Kuhl Washoe Valley, NV

"Jim and Deb both helped me find my first home. It was a very smooth process from the start and they worked hard to meet with me with my hectic work schedule. On the day I emailed Deb about seeing this new property, she couldn't come out but she made sure that her husband Jim was there to meet me. I really appreciate the effort, punctuality (they didn't waste my time), and friendliness from both! They really work great together and kept me updated through the entire process. I would highly recommend Team de Lancey to everyone buying a home."
April S. Sparks, Nevada

"Recently my father made a decision to move to Reno to be closer to me. We happened to meet Jim and Deb de Lancey (Team de Lancey) with RE/MAX Realty Affiliates. Right off we felt that they were very knowledgeable with the area and that we could work well with them to represent us in finding just the right residence. Reno had very low inventory at the time so, it took a little while but we ended up finding the perfect place and within our budget thanks to the excellent work by Team de Lancey. They showed several options and always wanted to find just the right place. In fact they really cared that we would be happy with the result and did not try to rush us. They were very attentive to detail. Team de Lancey went beyond the call of duty. If we are ever selling or buying again, we will not hesitate to call them. We highly recommend Team de Lancey."
Dana S. and Jerry S. Truckee, CA & Reno, NV